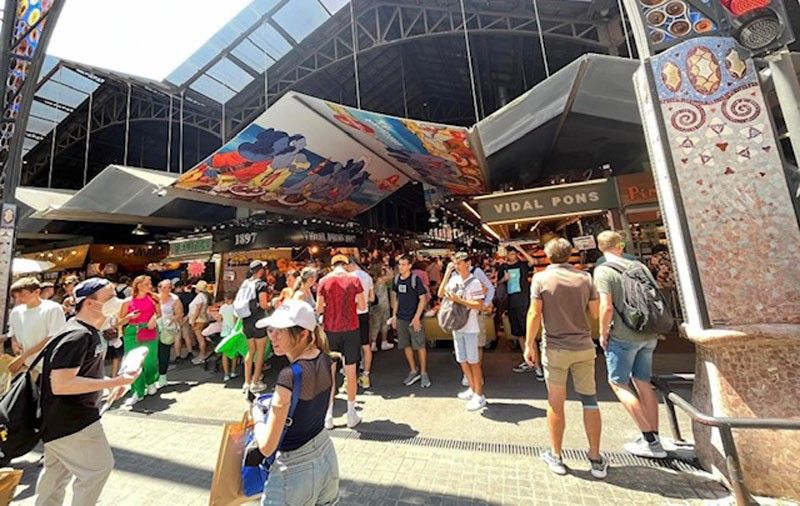 The journey of revenge culminates in Spain
As the saying goes, "all good things must come to an end". This will be the penultimate "chapter" on the revenge trip I took with friends last month, and it's about what we did in Spain after our cruise.
When Keren Pascual, Leo Katigbak and I were planning our Celebrity Beyond cruise, we realized we could stay in Spain for a few more days after the cruise and stay with friends who offered us free use of their house while they were in Manila. Leo and I have a doctor friend who graciously offered to lend us his condo unit in Barcelona, ​​while Keren's friend offered the use of his home in Malaga. It's no surprise to hear that Filipinos have been owning properties in Spain since the Spanish government opened up its Golden Visa program to non-EU nationals. To become eligible for the Golden Visa, one can invest in real estate and one would need at least 500,000 euros (about 30 million pesos).
And so, it was decided: after the cruise, we would spend a few more days visiting Spain. I've only been to Madrid once, and that was over 20 years ago. So I was excited to visit Barcelona and Malaga for the first time.
At the end of our memorable cruise aboard Celebrity Beyond, we disembarked in Barcelona on July 21, where another adventure awaited us. When we got to my friend's condo, we settled in and took a quick trip to the grocery store to stock up on groceries. We also decided to kill time there while waiting for another friend, Tim Son, who was arriving late afternoon to join us from Brisbane, Australia. We bought our lunch of paella, BBQ ribs and almonds at the grocery store and brought it home.
Once Tim arrived at the apartment and freshened up, we went to visit the iconic Sagrada Familia, the unfinished church that is constantly being renovated. I suspect that the 26 euros they charge visitors to enter the church goes towards its renovation. Since they don't allow walk-ins, you must book online. Luckily we arrived around 5pm and saw that there were slots available for 6pm
After spending time at a fast food joint across the street, we explored the Sagrada Familia. Although hefty, the price of admission was well worth it, if only for the chance to gawk at Antoni Gaudi's jaw-dropping architecture.
We then headed to La Rambla, a tree-lined pedestrian street that stretches for 1.2 kilometers and is famous worldwide for its many restaurants, shops, gelaterias, etc. We passed by the La Boqueria market, which is a paradise for foodies.
You will find all kinds of hams, sausages, cheeses, fruits and spices, everything that will delight and can satisfy your appetite. It is a feast for the senses and you will be seduced by the colors and the smells.
After La Boqueria we slowly made our way to Los Caracoles, the oldest restaurant in Barcelona which dates back over 180 years. This is where Keren offered us dinner. Caracoles is a snail, and is cooked in onions, tomatoes, green pepper and chorizo. It has a distinct taste but I prefer our kuhol sa gata or snail cooked in lots of butter. Besides the caracoles, we also ate calamari, roast chicken, bacalao and cuchinillo.
Since we only had three full days in Barcelona, ​​we had to plan our trips wisely. After the Sagrada Familia and La Rambla, the next element of our itinerary was a visit to Parc Guell. It's a beautiful, colorfully tiled park with sculptures and gardens by famous Spanish architect Antoni Gaudi, the same architect behind the Sagrada Familia. You have to hike to the highest point in Guell to admire exceptional views of the city and take photos from the serpentine benches while soaking up the vast green area and rich diversity of species.
The only museum we were able to visit was the MACBA, or Museum of Contemporary Art of Barcelona (its acronym is in Spanish). It featured several limited-time exhibits on photography, textiles, and pop culture.
In the afternoon, we headed to Sant Miguel beach in front of Placa del Mar, one of the busiest beaches on the Barcelona coast. We found ourselves a shaded area in one of the outdoor restaurants and ordered mojitos while enjoying the view and the people. When it wasn't too hot, we took a taxi to drive us around so we could see Casa Mila.
Better known as La Pedrera, this is another Gaudi work that started out as a residential apartment but has now been converted into a cultural center that hosts art exhibitions and performances. We also passed by Casa Batlló, another Gaudi masterpiece.
Last on our "must do" list was a walk through the Gothic Quarter, which used to be part of Barcelona's old town. It was nice to get lost along the narrow medieval streets and take in the architecture of the buildings, especially Barcelona Cathedral. Of course, we made time for pasalubong shopping, and I thoroughly enjoyed bargain hunting at Primark and my new find Muy Mucho.
Barcelona is a truly beautiful city full of arts and culture. But unfortunately, three days is not enough time to enjoy its countless sights, sounds and dishes. I will definitely make another trip to this unique and wonderful city in the spring or fall when the weather is more comfortable. Until next time, Barcelona.
(To find out how to qualify for the Golden Visa, please contact Dra. Luisa T. Puyat, Marketing Director of Vive Espana on 0917-3188420 or visit her website https://vivespania.com.)