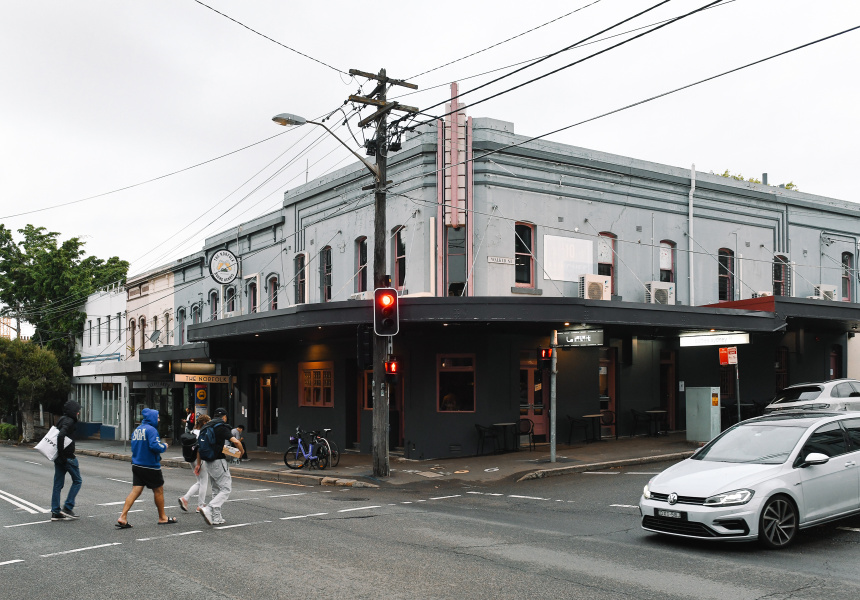 Say Hola to La Salut, an intoxicating wine bar by Redfern from Team Love, Tilly Devine dedicated to Catalonia
[ad_1]
Remember when Sydney didn't have Love, Tilly Devine? They were dark days. Tilly helped teach Sydney people about wine bars – and now the group behind him is returning to their roots with the opening of La Salut, a Catalan-inspired hole in the former sports bar at Norfolk House and Hotel newly renovated from Redfern.
"Love, Tilly Devine allows us to indulge our passion for natural wines and upcoming producers," said Matt Swieboda, half of the Love Tilly Group. Large format. "We have our French side at Dear Sainte Eloise and our Italian at Ragazzi Wine and Pasta, so it made sense that we would then go to Spain."
The Love Tilly group, operated by Swieboda and Nate Hatwell, also owns Fabbrica, the famous CBD store, among other things, for home-cooking pasta packs that were like warm blankets throughout Sydney's winter lockdown.
But we got out of lockdown and back in the bars, and the group worked with Thepeople_ hotel and accommodation authorities to bring us the lively neighborhood bar we need right now. Inspired by the culture of the eponymous suburb of Barcelona, ​​which is packed with tapas bars and seafood restaurants, the two groups plan to bring some of that vibrancy to the corner of bustling Cleveland and Walker streets in Redfern. And it's far from what was there before. Forget the pokies and beer-soaked rugs of the century-old pub's past. Go through the pink door, cross the terrazzo paved floor and turn right for Bottles.Sydney – the first of a cluster of bottle shops from the Love Tilly group. Or go left for what Large format predicted will be Sydney's most exciting tapas bar.
The space was designed by interior designer Sarah Watt (Fabbrica and Ragazzi), taking inspiration from the work of cubist artist Juan Gris. The arches and curves are inspired by the architecture of Josep Puig i Cadafalch and Antoni Gaudi, and the central wooden bar is reminiscent of Barcelona boozers.
Executive chef and co-owner Scott McComas-Williams was so invigorated by his time working in the Catalan town that he created a menu in his homage. But before he found "the best places in the world" in the tiny vermouth bars of northern Spain – where he also worked at star restaurant Els Casals – McComas-Williams spent seven years under the wing of Frank Camorra de Movida, reaching the rank of chef at Movida Sydney.
"Frank had a huge influence on me, so there are Andalusian flavors on the menu," he says. Large format. "I wouldn't do what I do without his teaching. But then I fell in love with the Catalan style.
The menu will constantly evolve but will remain an ode to the Catalan treatment of seafood in all its permutations – raw, canned, cooked. McComas-Williams, who has the smallest 'kitchen' imaginable behind this big bar, keeps it simple by presenting a clean menu that allows the best fresh local produce and imported Spanish preserves to speak for themselves.
Instead of making a big plate of cold cuts, there are three different types of jamon, including two types of iberico jamon, with pan de cristal (Spanish ciabatta) on the side. The bread is baked by Aniruddha Bhosekar at Fabbrica, which also makes "Jatz-style" baked crackers topped with McComas-Williams with Cantabrian anchovies, tomato and Manchego custard. Tathra Place's pasture-raised quail in Taralga is deep-fried and served with dehydrated morcilla (Spanish black sausage) breadcrumbs on top and pickled radishes. There are two pinchos a la plancha (skewers cooked on a flat grill): pork neck with whipped cod eggs, and hanger steak and liver with potato and sherry.
Lightly marinated mussels, fries, guindillas and a shower of tangy Fabbrica sauce are a tip of the hat for a dish that has captured the chef's heart at Barcelona vermouth bar Morro Fi.
"I just loved the simplicity," says McComas-Williams. "They're so confident they're making a dish of mussels and chips – just two things, but perfectly done. I love this concept.
Mar i muntanya, a mix of mountain and sea food (yes, surf n 'turf), is one of the foundations of Catalan cuisine. At La Salut, McComas-Williams combines butifarra – a Catalan sausage homemade in Fabbrica – with ground pork, salt and pepper, and mixes it like a salad with shelled clams, white beans and broad beans. "Tom (Cleland, chef at Fabbrica) spent all of the confinement working to make the perfect sausage," McComas-Williams says with a laugh.
Vying for space behind the bar, 15 types of vermouth are served with an orange wedge, anchovy-stuffed olives, and a small bottle of make-your-own soda. The Love Tilly group made a name for themselves as the forerunner of Sydney's natural wine habit, and the crusade continues at La Salut. Swieboda has organized a long list that promotes, among other things, the drops of the nascent natural wine movement around Barcelona and Vino de Pasto – unfortified wines made from Palomino grapes in Andalusia.
"There is probably nowhere in the world as underrated in its burgeoning natural wine scene as Spain," said Swieboda. "In our opinion, the current generation is by far the most exciting generation of winegrowers to come from Spain. The previous generation saw themselves as revolutionary by introducing French techniques and French varieties, and trying to make wines in the style of the best French wines they knew. The new generation is doing just the opposite. It is about putting old and local grape varieties back into cultivation, using less technology … letting the grapes speak for themselves.
And while La Salut's wine list focuses on Spanish, the bottle shop is more international. There is a nice table for two in the corner if you fancy a seat to open your bottle, or a corkage fee to take to neighboring Norfolk.
"For a city that's been so in love with Italian food lately, I think people are going to taste flavors that, while recognizable and familiar, are also quite new compared to what they've eaten in the past five. past years, "Swieboda said. said. "Certainly for my palate, there were such different flavors from what I ate. I think people will really love this. Greet this.
Salvation
305 Cleveland Street, Redfern
Hours:
from Wed to Fri from 5 p.m. to midnight
Sat 12 midnight
Sun 12 pm-10pm
barsalut.com
@barlasalut

[ad_2]