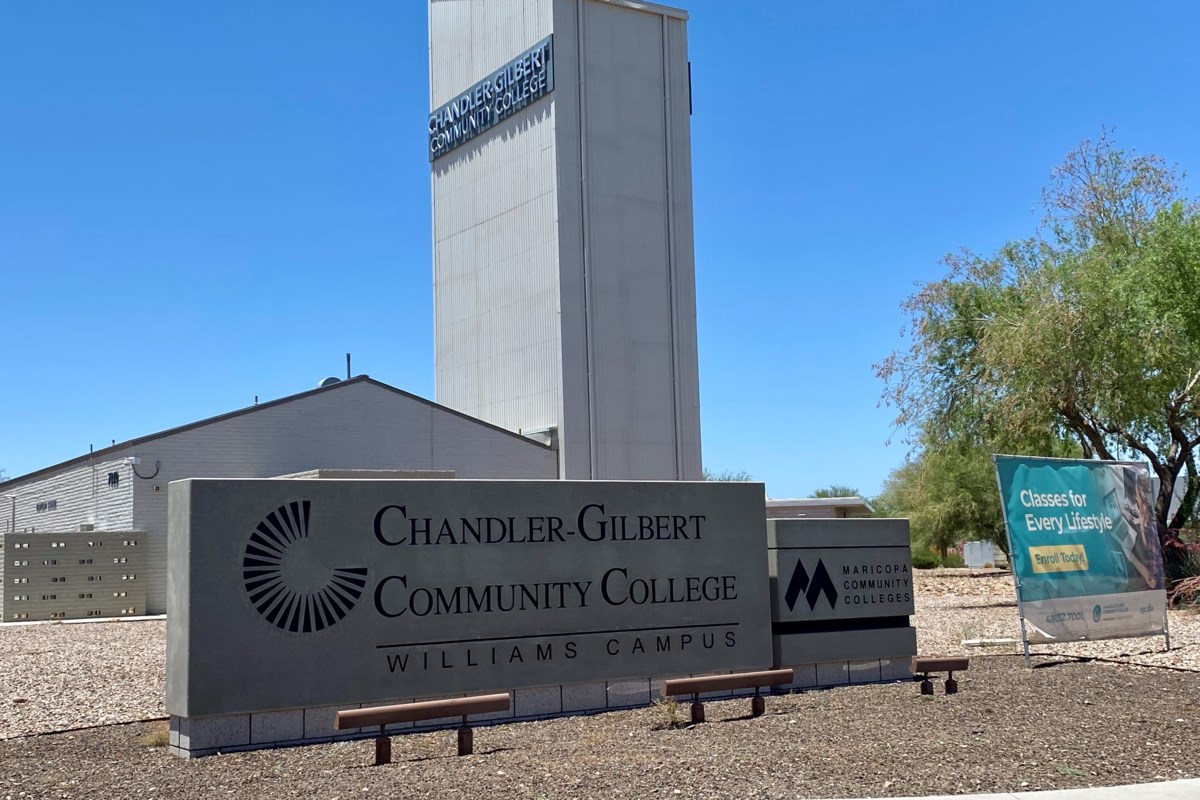 Maricopa Community Colleges highlighted in inaugural Spanish-language episode of "The College Tour"
Community College System Celebrates Hispanic Heritage Month by Featuring Diverse Student Voices in Fall Series
The Maricopa County Community College District (MCCCD), with 10 individually accredited colleges in the Greater Phoenix area, will offer four-year degrees in fall 2023, pending Higher Learning Commission approval, and begin to compete with some of the most established universities in the country. . With nearly 100,000 students, MCCCD understands its value and isn't afraid to reshape the traditional narrative of higher education. To prove it, the MCCCD is the first higher education institution to produce a Spanish-language episode of "The College Tour," an Amazon Prime Video series that offers prospective students a glimpse into what life is really like in some of the largest universities in the country. .
The Spanish episode can be viewed on MCCCD's dedicated homepage, with an upcoming release on Amazon's premium free streaming service. Each of the 20 unique student segments showcases everything the system has to offer, including affordability, cutting-edge programs, dual enrollment, and unique opportunities for adult learners and first-generation students — all told through the eyes of each student.
"Nine of our 10 colleges are designated as Hispanic Serving Institutions (HSI) and 36% of our student body identifies as Hispanic, we felt a great responsibility to share these stories with our community," said the Chancellor of the MCCCD, Dr. Steven R. Gonzales. "As a system, we are always on the lookout for innovative ideas and new methods of communication to meet students where they are and keep MCCCD top of mind as the best choice for affordable, high-quality education. quality."
According to 2021 data from the U.S. Census Bureau, people who identified as Hispanic or Latino were the second-largest demographic group in the city of Phoenix. Additionally, from 2010 to 2020, Maricopa County experienced the third largest Hispanic population increase in the nation. Data collected by the Pew Research Center shows that the number of Latinos enrolled in college has increased from 2.9 million in 2010 to 4.1 million in 2021.
"We are working to serve the next generation of students and hope the series inspires them to continue their education," said executive producer Alex Boylan. "Our show is inclusive for everyone, and each episode features diverse student voices because we want everyone to realize that college is accessible, and dreams are also accessible."
The episode highlights that with over 40 college and university partnerships and over 600 degree and certificate programs, students have many options depending on their goals and needs, whether it's about getting a degree or certificate, moving on to a university, learning a new career skill, or entering the job market right away. Episode host Lorena Segura takes viewers on a road trip from one end of the valley to the other to hear the amazing and diverse stories the Greater Phoenix community has to offer.
"Without a doubt, the most exciting part is sharing my story and representing the Latino community and my home country of Mexico," said Scottsdale Community College student Camila Maldonado. Being able to show that I study here and all the opportunities this country has offered makes me excited to share the episode with all my family and friends.
The Spanish episode features the following current and former MCCCD students:
Chandler-Gilbert Community College: First-generation student Frida Guzman made her dreams come true at CGCC, where she is currently enrolled as an honors student. Guzman appreciates that CGCC makes his education affordable. She hopes to inspire future generations of women by helping them realize that getting a college education is achievable.

Chandler-Gilbert Community College: Lourdes Sanchez's dream of becoming a scientist took her from the desert town of Yuma to the CGCC. She likes that the college finds ways to connect her social interests, such as volunteering, with her classes and student life.

Mesa Community College: Adolfo Tenorio explains why attending MCC was one of the best decisions of his life. As a first-generation student, Tenorio appreciated the guidance and support provided by MCC faculty and staff. Now he pays it forward as a tutor for other students on campus.

Mesa Community College: Andrea Gallegos always knew she wanted to be an engineer, but she didn't know what field of study to focus on until she found MCC's Mechanical Drafting program. Gallegos like small class sizes and affordable tuition. Through the MyPath2ASU MAPP program, she can easily transfer her credits to Arizona State University.

Scottsdale Community College: Camila Maldonado chose SCC for its world-class dance program. She likes that the program focuses on all facets of the dance and entertainment industry. Through helpful faculty and instructors, Maldonado found his community and took his passion for dance to the next level.

Scottsdale Community College: Alondra Moguel always heard that community college was more affordable than university, and now believes it to be true thanks to CSC. As a first-generation Deferred Action for Childhood Arrivals (DACA) student, she appreciates the flexible learning options that allow her to take online and in-person classes, while working full-time.

GateWay Community College: Desiree Sanchez began her educational journey in the Achieving a College Education (ACE) program, which allowed her to earn up to 24 college credits before graduating from GateWay Early College High School. The best part? All of his college classes were free thanks to the program!

GateWay Community College: Daniel Castaneda Martinez is focused on a career in computer science and information technology. He believes that education will create a better future for him and his family. He is grateful for the patience and support of college instructors and staff for helping him choose a program he is passionate about and for making him feel represented.

Phoenix College: Hugo Calel already had a career but felt dissatisfied and was ready to retrain and resume his career for a role in the medical field. Calel chose PC for its longstanding reputation in the community. As an adult learner, he dreaded going back to college, but thinks it was one of the best experiences of his life.

Phoenix College: Romeo Lebron came to the United States from the Dominican Republic in search of the American dream. After losing a job due to his limited English, he learned that PC offers one of the most diverse English as a Second Language (ESL) programs in Arizona and immediately enrolled. The college staff put him in touch with financial aid resources to help him with tuition. Now Lebron is on track to graduate and transfer to Arizona State University.

Rio Salado College: Originally from Cuba, Vera Batista enrolled in online classes at Rio Salado with the goal of learning English and launching her career in the healthcare industry. Batista loves the college's flexible learning formats and the fact that the staff at Rio have supported him throughout his academic journey.

Rio Salado College: Giselle Velazquez is a member of the LGBTQ+ community, who came to the United States with big dreams, including getting her citizenship. Hands-on online classes brought her to Rio Salado, where she earned her associate's degree in cybersecurity before using a transfer partnership to transfer to a university to complete her bachelor's degree.

South Mountain Community College: After struggling in high school, Evaristo Perez returned to college as an adult learner with the goal of completing his education to make his parents proud. He thanks his educational advisor for his advice and support. Now that he's back on track, he enjoys participating in student workshops and studying at the library.

South Mountain Community College: Julio Cesar Villarreal Jr. channeled his passion for debate and competition into a political science degree. He enjoys attending sporting events and interacting with students from all walks of life on the SMCC campus. He hopes to pursue studies and a career in law.

Glendale Community College: Luis Tirado is an avid football player who has found new friends, teammates and community at GCC. With guidance from the athletic department, Tirado is able to take prerequisite courses, which prepare him to transfer and complete his bachelor's degree in mechanical engineering.

Glendale Community College: Joana Huaracha Franco always knew she wanted to be the first in her family to graduate from college. She began her academic career in the ACE program (Achieving a College Education). Thanks to GCC's excellent guidance, tutors and teachers, she was able to find the right classes and learned how to navigate higher education.

Estrella Mountain Community College: Enrolling at EMCC was a natural fit for Esperanza Cadena, who knew she wanted to be close to home and family while in college. With the help of her teachers and advisors, she was able to keep her GPA above 3.5 and participate in clubs, sports, and even serve as a student ambassador.

Estrella Mountain Community College: Luis Beltran was looking for a college with innovative programs to keep him engaged and on track. He found that and more at EMCC. In his freshman year, Beltran is studying Mechanical Engineering and appreciates the one-on-one support he receives from his advisors, tutors, and professors.

Paradise Valley Community College: Cynthia Rojas Rangel's parents emigrated from Mexico with dreams of pursuing higher education. His journey at PVCC began as a junior in high school taking college courses through the Achieving a College Education (ACE) program. Thanks to the resources offered by the PVCC, she was able to learn to sail in college as a first-generation Latina student.

Paradise Valley Community College: Damaris Sanchez left Mexico hoping to attend a major college. Due to his limited English proficiency, financial resources, and culture shock, Sanchez needed an educational lifeline, which turned out to be the PVCC. She was drawn to the beauty of the campus and chose PVCC for its affordable tuition, small classes, and student resources.
Visit maricopa.edu/college-tour-spanish to hear student stories and get a behind-the-scenes look at how this episode unfolded. Learn more about Maricopa Community Colleges and the new four-year degrees they hope to offer starting fall 2023.