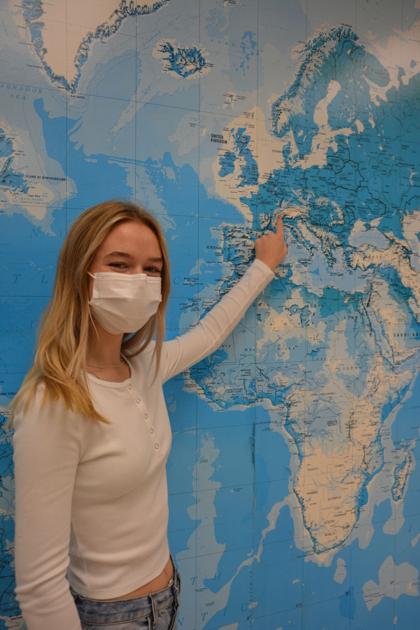 International Culture, Cuisine Presented by High School Students in Bridgeport (West Virginia) Next Week | New
[ad_1]
BRIDGEPORT, Va. (WV News) – More than two dozen countries will be showcased by students at Bridgeport High School from 6 p.m. to 8 p.m. on November 10 at this year's International Fair.
The annual event took place in 2020, but due to the COVID-19 pandemic and school guidelines, it was held virtually with 12 countries via a Schoology video, according to Spanish teacher Alicia Kidd.
"I am delighted to bring the International Fair back in person this year," Kidd said. "Students will have the opportunity to really experience other cultures, taste foods from around the world, and interact with the presenters. We will have students presenting information on 25 countries, from Mexico to South Korea.
The event is free for students of Bridgeport High School and their families.
Due to the ongoing COVID-19 pandemic, a variety of food from around the world will be served in the school cafeteria, and notice boards will be distributed throughout the first floor (as opposed to all activities in the cafeteria).
"We are very happy to have so many students volunteering to share a culture," said Deanna Garrett, French teacher. "This is the first time in two years that we've been able to have one, so having that much support is absolutely phenomenal. The teachers had the idea to bring it back, but we really put it in the hands of the students to organize and take care of everything. They do all the hard work.
High school students Sara Skinner and Alyssa Mazhar will bring food to the event and serve as ambassadors while commuting between each exhibit. Skinner is the president of the French Honor Society and Mazhar the vice-president of the French Club.
"There is usually a ton of food," Mazhar said.
While Skinner brought couscous – a staple from North African countries and France – in 2019, she doesn't know what to cook next week.
"I love going to explore different cultures through food," Skinner added. "All the students bring food, but they can choose to make a poster. "
Of the 25 countries, many will be presented by two, three or four students each.
Juniors Joslynn Kirsch and Lauren Seti will present Mexico next week, as they did in 2019.
"I went to Mexico for a family vacation. It is a place that interests us; we did a lot of the same activities and will talk about it and the culture, food and practices that are in mexico in our poster, "said Kirsch. "I went to Cozumel, Mexico my freshman for about a week. It's interesting to have a basic conversation with some of the locals.
Seti also hopes to visit the country.
"I think the culture is really nice, and it's nice to learn more about other cultures, to experience them firsthand," Seti said. "There is a large population that speaks Spanish, and Mexico is our neighbor country."
The duo will prepare tacos for the guests.
"There are also a lot of freshmen making new boards," Kirsch said. "Everyone generally does a very good job. "
Another junior student, Ellie Hart, will tell students and parents more about Switzerland at the upcoming International Fair, which will be her first presentation. She also hopes to wear clothes from Switzerland.
"My dad lived in Switzerland for a while and we went there a few years ago," Hart said. "It is one of my parents' favorite destinations to travel. I think it's important to show members of the Bridgeport community how important it is to know more about the different countries. It's a really cool opportunity.
Kidd said the event will also include a musical performance, dance demonstrations and an art exhibition. Fairmont State University and West Virginia University will also discuss college-level language programs with students.
"Students will benefit from the diversity of our own community and, hopefully, will be excited about studying the languages ​​and culture of the world," Kidd said.
Skinner, a French V student next semester, hopes to earn a minor in French at the University of West Virginia next year.
"I want to work for the FBI, so I think having that cultural background with French will definitely help me gain the upper hand," Skinner said.
Kirsch hopes to study nursing at university while Seti is eager to pursue pharmaceutical work, two areas in which students believe their foreign language studies would allow them to explore more areas.
Bridgeport High School students, including Skinner, Kirsch and Hart, will have the opportunity to visit France and Ireland for two weeks this summer. Students have not been able to travel abroad for a few years due to the COVID-19 pandemic.
[ad_2]