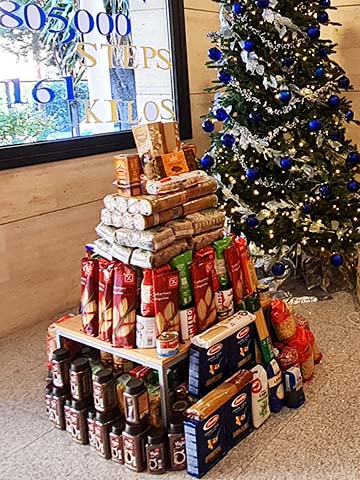 Donation season at SLU-Madrid: SLU
Holiday giving kicked off this year at SLU-Madrid with the Thanksgiving Food Drive campaign and the Solidarity Step campaign.
Drawing on the Thanksgiving spirit, students, faculty and staff donated non-perishable food to support the soup kitchen run by the Hermanas Terciarias Capuchinas at the Sagrada Familia. Located near the campus, the soup kitchen (in Spanish, social actor) serves the community of the SLU-Madrid district.
According to Campus Minister Paloma Gómez de Salazar Cordero, it serves around 150 to 200 meals a day to a large population, including unemployed and underemployed people, undocumented people who do not have access to stable employment. and social benefits, the elderly whose pensions do not cover their basic needs, and others. For many, a hot soup kitchen meal is their most important daily source of sustenance. With the food drive participants also making cash donations, SLU-Madrid was able to provide 103 kilos of food to the soup kitchen to help continue serving meals to those in need.
The student-run human rights club also joined the initiative to support the soup kitchen by organizing the second annual solidarity stage. This campaign was conceived as an opportunity to encourage the SLU-Madrid community to remain active while reaching out to people in need. Students, faculty and staff recorded the steps they took on Saturday December 4th. Participants submitted screenshots or photos from their smartphones and fitness trackers to show their steps, and SLU-Madrid donated one kilogram of food to the soup kitchen for every 5,000 steps taken. . In total, the 57 participants recorded more than 805,000 steps, which means that SLU-Madrid donated 161 kilograms of food.
For years, SLU-Madrid has also organized a toy drive for teachers and staff during the holiday season in collaboration with Asociación AMPARA. This NGO distributes toys to children under three who live in the association's shared apartments while their mothers return to society after serving a prison sentence for minor offenses. However, the association did not organize the toy collection this year.
As an alternative, Paloma Lladó of the Office of Student Life has offered to collaborate with Reyes Magos de Verdad, a non-profit project that seeks to bring back the joy of Christmas to underprivileged children and adults across Spain and Portugal by handing out gifts. Children, who come from low-income families, and adults with intellectual disabilities who are served by this program send letters to the Three Kings (Reyes magos in Spanish), asking for the Christmas gift of their choice, according to local tradition in Spain. Each letter is then given to an employee, who purchases, packages and gives the requested item. The initiative was founded in 2008 and has grown every year since. Last year, more than 11,000 gifts were distributed to those in need.
Lladó, one of the founding members of the initiative, explained the organization's participation protocols: "Each year Reyes Magos addresses youth shelters, retirement homes, parishes and NGOs that work with disadvantaged children, or single adults or with intellectual disabilities. Many Centers also contact the Reyes Magos directly. A Reyes Magos coordinator visits the different homes, organizations and shelters, to assess their needs and offer an invitation to those who need it.
"The Christmas season reminds us to reach out to those in need," said Madrid campus director and academic dean, Paul Vita, Ph.D. "The acts of solidarity of our community match our identity as a Jesuit institution.