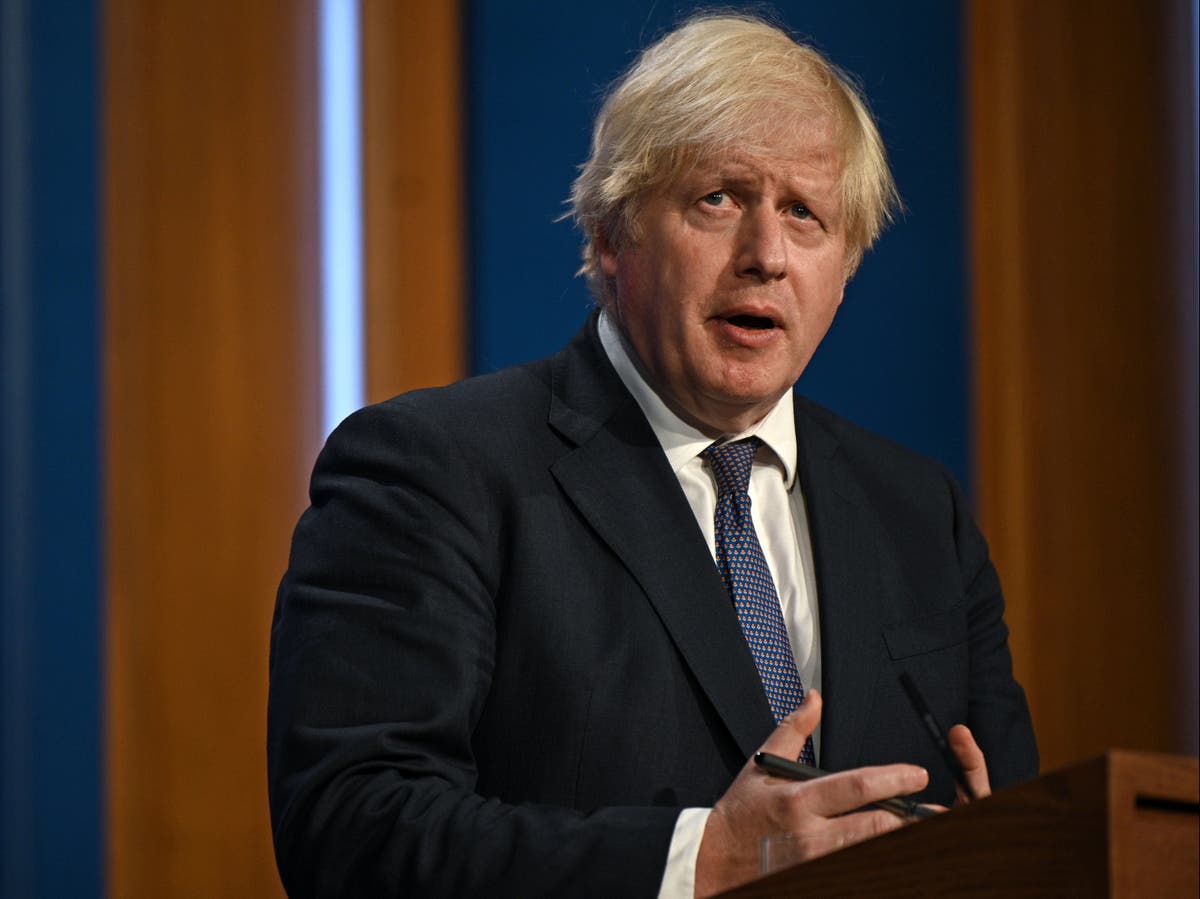 Boris Johnson news live: Latest updates as Tories fail to reverse foreign aid cut
"Unpardonable" Racist Online Abuse Against English Players Condemned By boss_m196939.mp4
The Tory rebels lost their attempt to undo the government's annual £ 4 billion cut to the foreign aid budget, losing by a margin of 35 votes.
The government's victory – by 333 to 298 votes – comes after Keir Starmer warned that failure to defeat the government on Tuesday would make the cuts "not temporary but indefinite."
Former Conservative Prime Minister Theresa May was among those Conservative MPs who rebelled against cutbacks in aid. "We made a promise to the poorest people in the world. The government broke that promise. This motion means that the promise can be broken for years to come, "she said.
Charity bosses were quick to criticize the result, with a senior Save the Children official saying "children will die because of this."
Meanwhile, Boris Johnson will urge social media companies to take tougher action against racism at a meeting today after the abuse of England football players, which he described as "dark spaces of 'Internet".
Marcus Rashford, Jadon Sancho and Bukayo Saka were the target of racist hatred online following England's loss in the Euro 2020 final which saw all three players miss penalties.
While ministers condemned the abuse, England football star Tyrone Mings accused Priti Patel of "stoking the fire" by criticizing the team for taking the knee against racism as "a political gesture".
Read more:
1626159554
Hello and welcome to The independentlive coverage of UK politics. Stay tuned for continued updates.
Andy GregoryJuly 13, 2021 7:59 AM
1626160168
Tyrone Mings accuses Priti Patel of "stoking the fire"
Here is the full quote from Tyrone Mings, who responded to a tweet from Priti Patel saying, "You can't stoke the fire at the start of the tournament by labeling our anti-racist post as" Gesture Politics "and then pretending to be disgusted. when the very thing we are campaigning against happens.
The Minister of the Interior said she was "disgusted" that "players who have given so much for our country this summer have been the subject of vile racist abuse on social networks", adding: "It does not have its place in our country and I support the police to hold those responsible to account.
At the start of the tournament, Ms Patel said fans were allowed to boo players who kneeled at the start of matches and dodged the question of whether she would boo herself.
My colleague Conrad Duncan has the full story here:
Andy GregoryJuly 13, 2021 8:09 AM
1626160516
Conservative peer urges party to "stop culture wars that fuel division"
Yesterday, the Home Secretary and the Prime Minister had already been criticized before Tyrone Mings' tweet.
Among the critics was the former president of the conservative party, Baroness Warsi, who responded to the post of the Minister of the Interior by declaring that "we, the conservatives, must reflect on our role to nurture this culture in our country", adding, "If we 'hiss' and the 'dog' reacts, we cannot be shocked if it barks and bites.
Andy GregoryJuly 13, 2021 8:15 AM
1626161485
Tyrone Mings "is absolutely right," says Tory MP
Tory MP Johnny Mercer, who resigned as defense minister in April, backed Tyrone Mings following the soccer player's criticism of the Home Secretary, adding that he was " very uncomfortable with the position we, the Conservatives, needlessly force ourselves to.
He added: "Politics needs more courage – maybe a lesson we can learn from our football team."
The Plymouth MP had expressed his objections to his Conservative colleagues' aversion to players taking the knee again at the start of the tournament.
Andy GregoryJuly 13, 2021 08:31
1626161656
Mings "has every right to be angry," says FA inclusion adviser
A member of the FA's inclusion advisory board said Tyrone Mings was right to be angry with Priti Patel for not condemning the boos from the players who kneel down.
Former footballer Marvin Sordell, who said racism was a "big factor" in his retirement from the sport, told BBC Radio 4 Today program: "He has every right to be angry, just like me, as I'm sure millions of people across this country are too.
"Because there was a huge opportunity to show strong leadership at this point. And I think it was very clear then, it was very clear before that, that the players who kneel down were nothing more than them trying to raise awareness about a topic that has again been raised.
"There was then an opportunity to really support the players in what they are trying to do, what they are trying to achieve, the positive message they are trying to talk about, and yet that was rejected and people were allowed to to the possibility of reacting negatively to something that was purely positive.
Andy GregoryJuly 13, 2021 08:34
1626162040
Boris Johnson dodges kneeling issue after racist abuse against England players
As criticism against him and his government's stance on boos from players taking the knee intensified last night, Boris Johnson dodged the question of whether he would take the gesture the way England players did.
The Prime Minister, who had previously said "I don't believe in gestures, I believe in substance", replied: "On Black Lives Matter and the importance of it, I will just repeat what I have always said about many times.
"I think people should feel free to show their respect and show how much they condemn racism in this country in any way they choose."
He added: "I was [at Wembley] last night and I noticed the whole crowd was respectful when our players took the knee and I didn't hear a single boo.
Andy GregoryJuly 13, 2021 08:40
1626162639
Boris Johnson tells racists who abused England team to 'crawl under a rock'
Here is Boris Johnson's condemnation yesterday of those who direct racist abuse against England players:
Boris Johnson tells racists who abused England team to 'crawl under a rock'
The PM had previously been criticized for his inability to defend the England team's decision to kneel down in protest against racism, with expert Gary Neville also attacking his own history of discriminatory comments, including comparing Muslim women to "mailboxes". ".
Gary Neville criticizes Boris Johnson's hypocrisy over racist abuse of England players
Andy GregoryJuly 13, 2021 8:50 AM
1626163226
Minister defends Priti Patel
A senior government minister defended Priti Patel after England footballer Tyrone Mings accused the Home Secretary of "stoking the fire" in relation to racism.
"The Home Secretary has repeatedly taken a stand against racism," Chief Treasury Secretary Stephen Barclay told Sky News. "The Home Secretary herself has been the subject of appalling racist abuse online.
"She has always condemned racist abuse online and she has taken action as Home Secretary against some of the far-right groups responsible for it."
Andy GregoryJuly 13, 2021 09:00
1626163970
Our sister site indy100 has more on the support Tyrone Mings has received for his criticism of the government.
Among those praising the Aston Villa defender are New York Times Journalist Tariq Panja, who said the team had "every right to speak", having been "directly targeted".
Andy GregoryJuly 13, 2021 09:12
1626164243
"If you abuse someone, you are not a fan of England", says Harry Kane
Harry Kane told those who have targeted some of the English players after the Euro 2020 final defeat that "we don't want you".
The English captain tweeted:
Team manager Gareth Southgate had previously called the abuse of his players "unforgivable".
Andy GregoryJuly 13, 2021 09:17