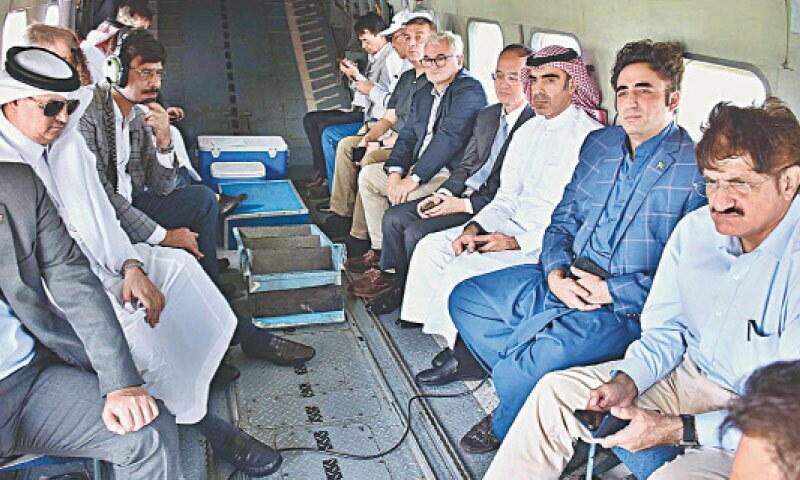 Bilawal says Sindh urgently needs 860 billion rupees for rehabilitation after heavy rains and floods – Pakistan
SUKKUR: Foreign Minister Bilawal Bhutto-Zardari has briefed diplomats from over 20 countries and representatives of donor agencies that Sindh urgently needs Rs 860 billion to rebuild collapsed houses, repair roads and revive the economy. agriculture destroyed by the incessant heavy rains that have hit the province for several weeks.
"We need to rehabilitate people, give them jobs, rebuild the road network and strengthen the economy," Bhutto-Zardari said, adding that they would also need machinery to restore the fertility of flooded farmland after the removal of the floods. flood waters.
Bhutto-Zardari, who was received by Sindh Chief Minister Syed Murad Ali Shah and Federal Water Resources Minister Syed Khursheed Ahmed Shah at Sukkur airport on Wednesday, was addressing the guests during a meeting that he presided at the airport to brief them on the extent of the devastation caused by the torrential rains and floods in Sindh and other provinces.
He said the torrential rains and floods affected almost the whole country but it rained more than usual in Sindh. At present, the drainage system was not functioning due to heavy flooding at Guddu and Sukkur dams, he said.
He said: "This is the first flood that has inundated both river areas and urban centers rendering large populations homeless. The rain and floods destroyed crops and caused losses of Rs 33.5,441 million to growers in the province, he said.
Officers from the National Disaster Management Authority (NDMA) also briefed the delegation on the damage caused by the disaster.
The delegation included ambassadors and diplomats from Turkmenistan, Bahrain, Saudi Arabia, Azerbaijan, Germany, Canada, Spain, South Korea, China, European Union, France , Iran, Turkey, Qatar and Japan, as well as representatives from the United Nations Population Fund, USAID, United Nations Children's Fund, International Organization for Migration and others. After the meeting, all the guests took an aerial view of flooded towns, villages, crops and canals.
This flood bigger than that of 2010, the deluge of 2011, says Murad
In a separate meeting with the guests, Sindh Chief Minister Syed Murad Ali and Sindh Chief Secretary Sohail Rajput briefed the visiting diplomats and representatives of donor agencies in detail on the unprecedented monsoon rains.
Shah said the recent flood was a more serious disaster than the floods of 2010 and 2011, as this crisis was aggravated with heavy flooding in the Indus at the Guddu and Sukkur dams which inundated the entire river area.
The chief secretary told the meeting that 24 districts with 102 talukas and 5,727 dehs had been declared disaster areas.
The Chief Minister said compensation funds for death, injury, damage to homes and loss of livestock, damage to crops, relief from interest on agricultural loans and rescheduling of loan repayments by postponing it for at least a year, subsidies for machinery, fertilizers, pesticides and seeds to farmers in flood-affected areas were urgently needed.
He said that one million tents, three million mosquito nets, two million two-month ration bags, one million jerry cans and one million cooking utensils, 500,000 plastic mats and 500,000 mattresses and tarpaulins wool were needed to help rain-stricken people in the camps.
In Karachi, roads, bridges and the sewage system would require 50 billion rupees to repair or rebuild, he said.
Posted in Dawn, September 1, 2022