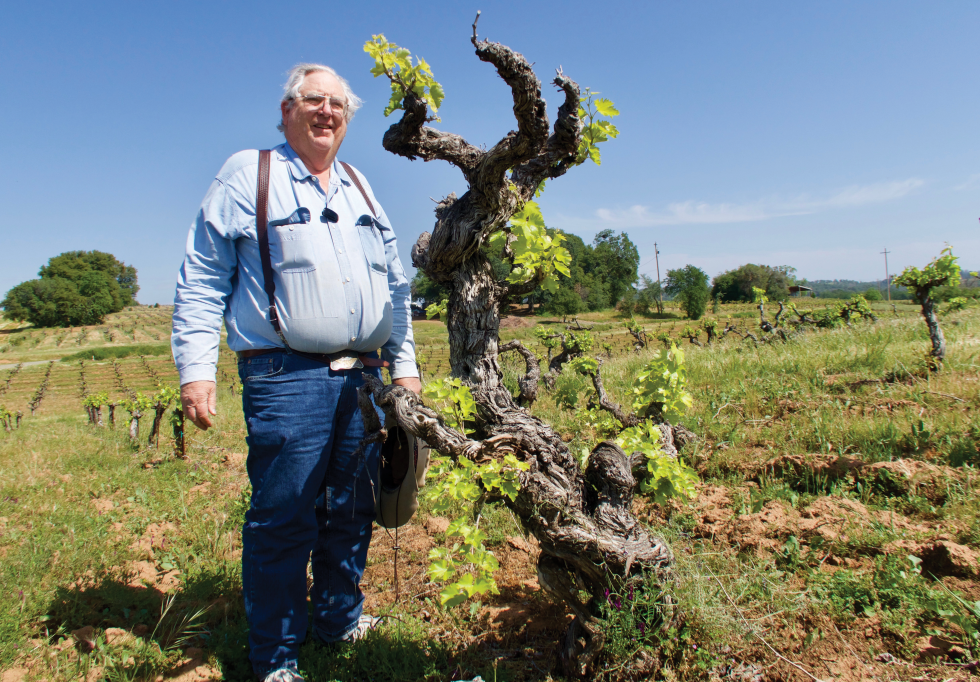 A sacred mission in the vineyards
This story is part of our October 2022 print issue on Family Business. Click here to subscribe.
Ken Deaver gets out of a dusty van and pulls his big straw hat up against the sun. He is about to walk through a maze of living history.
A breeze rushes through the sturdy vines before him. They are not like the other vines here in the Shenandoah Valley in Plymouth; they rise from the ground like jets of fountains. Passing generations have made them gnarled and knotted in tortured arms that reach for the sky. A native of the Valley, Deaver has farmed its rugged terrain for most of his life. But this rare vineyard has been around much longer than him.
Deaver walks through a block of mission vines at his winery, Deaver Family Vineyards, which his family planted in the 1850s. (Based on historical records, Deaver estimates the first planting was in 1853, which would place it among the oldest vineyards in the state.) The reason a few of its vines protrude from its head is that they are survivors. The blight, the plague, the drought, the deep frosts – nothing has yet done in these budding tributes to the frontier. And this is a good thing. It is one of the last working mission wineries in the Golden State.
Mission grapes mark the genesis of California's winemaking heritage. It is well established that these vines for sacramental wines – the wines used for the Blessed Sacrament in the Catholic Mass – were the first grape planted in America in the 1760s, brought here by Franciscan friars in their adobe compounds in New Spain. However, the deeper point of origin of their cuttings has long been an enigma.
In 2007, genetic researchers in Madrid used new DNA techniques to unravel the mystery. What they discovered was that the mission grape's backstory involved more travel, work, and endurance than anyone had guessed.
"The ancestors"

To learn more about Late Mission wine evangelist Charles Myers, click here.
Darrell Corti, whose family opened the Corti Brothers market in 1947, has been hailed as Sacramento's first wine importer and one of California's ultimate tastemakers. On the way to gaining this reputation, he developed a sort of obsession with the mission grape. Corti has read everything he can find about the obscure beginnings of the mission grape.
The Spaniards had been growing mission grapes in the kingdom of Castile, a powerful state in what is now northern Spain, since at least the 1500s. They then planted it on the Canary Islands, an archipelago off the coast of northwest Africa as their empire grew. "This is where the missionaries stopped to get water before arriving in the New World," explains Corti. "When they left the Mediterranean basin, the closest place they could find water was either the Canary Islands or Madeira." Missionaries brought cuttings from these island vines to the New World.
Corti adds, "They planted these grapes in California because they could grow here, and they needed them to celebrate Mass: In the old days, you had to be really practical instead of picky."
It was by chance that they gave these vines a second home in the Canary Islands since the 19th century phylloxera epidemic largely wiped out the grape variety throughout the Iberian Peninsula. The volcanic soil of the Canary Islands helped save it (phylloxera, an aphid-like insect, has difficulty living in the ashy soil of volcanic regions), but also the adventurers of the fabric. Because they took mission cuttings on their journeys into the unknown, the grapes quickly basked in the sun in California's Catholic outposts.
Deaver's own vineyard was planted a few years into the California Gold Rush. He credits the enduring power of mission grapes in Amador County to the rise of large industrial gold mines in the 1860s. These outfits brought dozens of Italian and Serbian immigrants to work deep underground.
"Being in a dusty, dirty area that was really confined, the miners had issues with the dust, and when they got home they needed something to clear their throat," Deaver says, "and a lot of of them were accustomed to wine. So they would take a mission grape, which we have, and they would mix it 50-50 with a zinfandel grape, which we also have.
Mission grapes, Deaver says, produce such a smooth, low-acid high that they don't need to be barreled for long periods of time to mature into a decent drink. "They didn't wait two or three years to drink this stuff," he notes of the miners. "They drank it down as fast as they could."
Early in his career, Deaver occasionally sold mission grapes to other wineries. However, after zinfandel and barbera became kings in Amador, he seriously considered uprooting his mission block. His wife, Jeanne Deaver, immediately put an end to this idea.
"My wife almost hit me on the head and said, 'Something that lives so long and is so old; there's no way a young whippersnapper would do that," he recalled with a laugh.
Modern wines from the oldest vines

Other Amador mission vineyards have not been overseen by Jeanne Deaver over the years. A block of perennials was uprooted when the rancher who owned it died. Another on Shenandoah Road, which was still producing mission wine until three years ago, was recently uprooted after a new owner purchased the property.
One Valley evangelist who has never considered doing such a thing to his historic vineyards is David Dediachvili, who bought 49-year-old Story Winery in 2019. He is from the Georgian nation, which according to the archaeologists, has the oldest wine-growing tradition in the world. Dediashvili's approach to his mission block which was planted in 1894 has elements of the Hippocratic oath: First, do no harm. It currently has longtime Story winemaker Robert Campbell continuing to make a classic, straight red mission wine. It's unusual. The few wineries that still ferment mission grapes use it primarily for sweet and fortified dessert wines.
Today, the Deaver and Story blocks are on a wine island. The once plentiful mission grape has all but disappeared from the West. Both wineries represent proud but stubborn resisters – small operations trying to find commercial success by defending a part of the vanishing past. For Dediachvili, staging these oddities of yesterday comes from a personal conviction.
"It is the magnificent culmination of all Old World winemaking with the very first wines that grew here on the continent."

David Dediachvili, Owner, Story Winery
"It's the magnificent culmination of all Old World winemaking with the very first wines that grew here on the continent," he recalls of his mission bottles. "That's one of the reasons I really fell in love with the place." Much like the Deaver plot, Story's time-worn vines continue to produce wine that offers a taste of the valley's early days.
A bottle of Story's Mission Red 2019 has clean, simple contours, with sweet cinnamon notes in the body and a sweet strawberry ghost on the finish. "It's a very special wine," admits Dediachvili. "Nowadays people who come here love the story behind it."
MiraFlores is another winery producing red mission wine right on the hill. Veteran winemaker Marco Capelli gets his grapes from Deaver and enjoys working with these relics of California legend. Her Mission Red has a light, layered warmth under inflections of vanilla and bright cherry flourishes. Capelli has also developed a Mission Angelica, closer to the religious roots of wine. It brings the sweet profiles of grapes into smooth layers of something like grape honey.
"Mission Angelica is a total throwback to the gold rush and the old mission of the 1700s," says Capelli. "In 1995, I first created Mission Angelica from Ken Deavers' vineyard, and you almost feel like you're walking along the redwoods – you have this feeling of sacred ground."
As for Deaver, his winery eventually started making a mission dessert wine called Golden Nectar. Each year it remains one of his favorite bottles to produce. Golden Nectar has that savory, smoky sweetness of an angelica, but with more gradual undertones of flowering, as well as a hint of stone fruit freshness.
Deaver's longtime pal Corti is happy that the few remaining mission vineyards in Amador are producing produce for the market. Asked what makes the vines so special, Corti answers without hesitation: "The fact that they are always there.
–
Stay up to date on business in the Capital Region: Subscribe to the Comstock newsletter today.